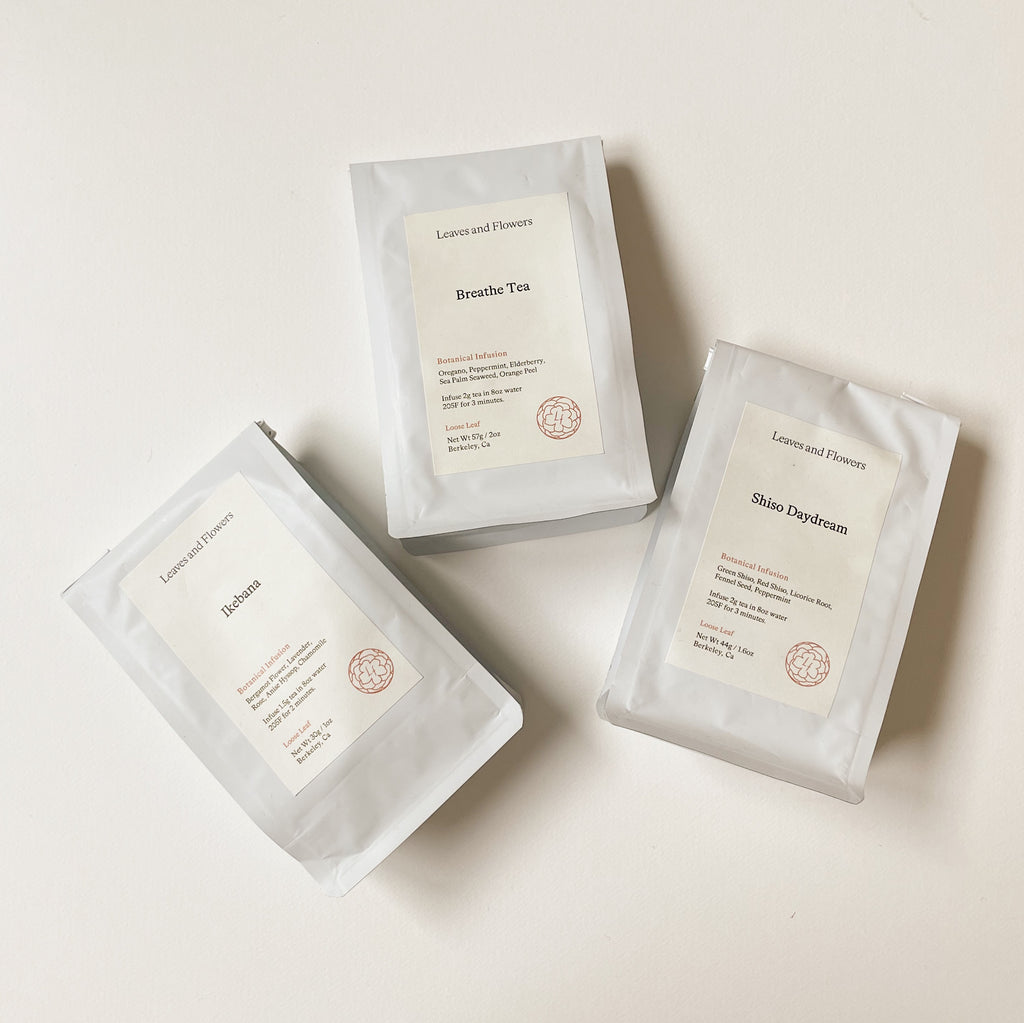 $13.00
$19.00
Leaves & Flowers | Loose Leaf Tea
Leaves and Flowers loose leaf botanical teas are sustainably grown and harvested. All ingredients are either certified organic or cultivated without the use of chemicals. 
18-20 servings per 1oz loose leaf pouch.
SHISO DAYDREAM - Green + Red Shiso, Peppermint, Fennel Seed, Licorice Root
Flavour Notes - Floral, Peppery, Sweet

The flavour of Japanese Shiso is somewhat indescribable –somewhere between, cinnamon, mint, anise, cumin. It is an unexpected yet harmonizing flavor that complements and accentuates the freshness of the other ingredients present. We recommend this tea for any time of day, but especially in the afternoon to awaken your imagination. 
IKEBANA - Bergamot Flower, Lavender, Rose, Anise Hyssop, Chamomile
Flavour Notes - Floral, Peppery, Sweet
Named after the Japanese art of flower arrangement, Ikebana is a true summer bouquet. It is composed of our favourite California flowers, and though delicate, it has an elegant structure and body that persists with multiple steeps. A possible translation for Ikebana is "making flowers alive" or "giving life to flowers". 

BREATH TEA - Oregano, Peppermint, Elderberry, Sea Palm Seaweed, Orange Peel
Flavour Notes - Floral, Peppery, Sweet
Blended with ingredients from land and sea to soothe and support your respiratory system. Sea Pam is an incredibly mineral rich seaweed to moisten the mucus membranes. Peppermint works as a decongestant. Oregano is a powerful antimicrobial. Elderberry is rich in antioxidents for boosting immunity. Orange peel is a dose of vitamin C for moving toxins. This tea can also be used as a herbal steam.
Leaves and Flowers is a California based tea company offering a unique selection of handcrafted botanical infusions and premium small batch teas that are sourced from around the world and chosen for their impeccable quality and flavour. Like the herbal drying and blending methods, much of Camellia sinensis harvesting and processing is carried out by hand. Buds and leaves are hand-picked, then skillfully oxidized, pan­‐fired, rolled or fermented to achieve the desired result.